GFWL: How low a developer goes

02 February 2014
Alright, an other update on the upcoming death of GFWL... As we all know, GFWL will die July this year and there's still a library that uses it. Joystick has by now made a list of games that still need attention when it comes to GFWL and there are a couple on interesting ones on the list.

Lets start with Microsoft. They made the GFWL platform to start with, and guess what? All their games WILL NOT get GFWL patched out
Really? I mean, you 'invented' something, drop even a couple of those games on sale during the last Holiday Sales on Steam (Fable III is one I saw) and then you just will not do a thing about your dieing 'service'? Extremely low guys. I hope for your sake that all new titles will be pirated 100% instead of being sold. I for one will NEVER buy a MicroSoft game anymore!

Then there is CodeMasters. A once great developer and host of a couple of MMORPGs, but I think they are close to bankruptcy at the moment. All signs point out to it - no more MMO hosting, long and expensive lawsuits about NetDevil's Jumpgate Evolution 2, forums being put offline and more such. Well, CM pulled an other prank when it comes to their GFWL library: they only update 3 games of it (DIRT 3, F1 2010 and F1 2011) and did not comment on all others. But yet, their latest Humble Bundle they also put those they did not comment on on-sale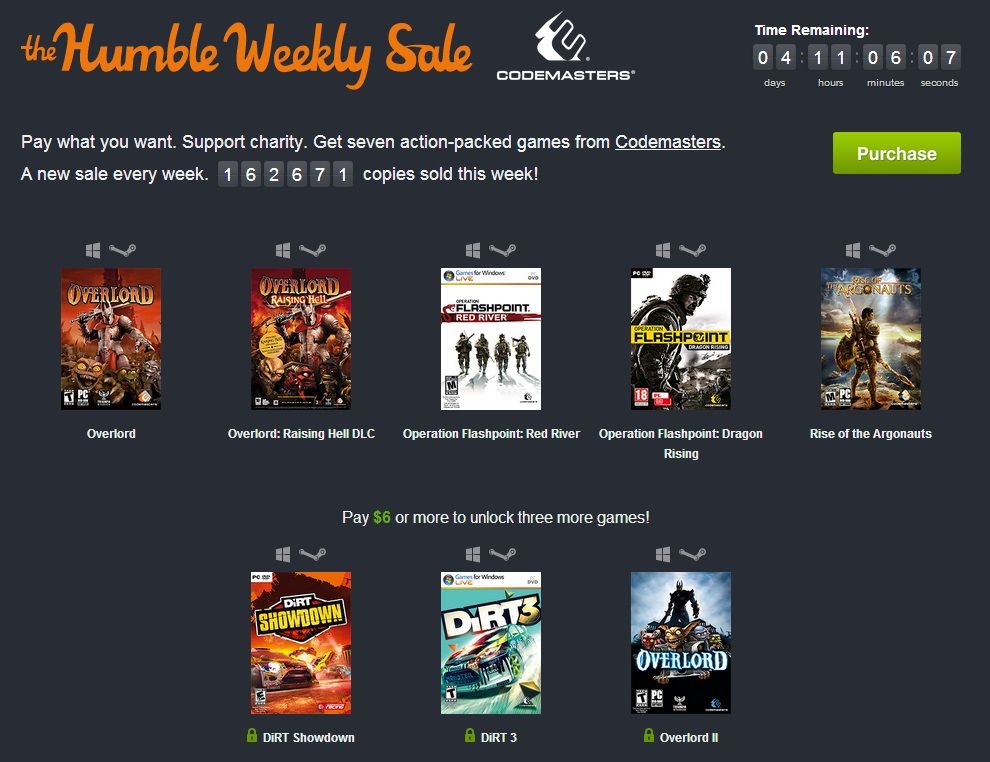 Nicely done guys! That means that for $1 you only get 3 games instead of 5


Last but not least SEGA. As you might know, they have bought the Warhammer 40K licenses from the bankrupted THQ and thus they also get the whole Dawn of War collection in their library. With DoW2 using GFWL, they have an obligation to their playerbase to even state if they will patch GFWL out of it or not, but SEGA keeps extremely quiet about it (I have asked SEGA about it too but I also never heard anything from them). This is odd since SEGA did patch THQ's Company of Heroes almost immediately when they acquired that game.
Anyway, GreenManGaming has a SEGA deal this week, giving ROME: Total War for free with selected SEGA titles. And guess what? This weekend you also get this free game with the Warhammer 40K games.


Really guys? Give a great sell a great game like DoW in discount THIS close before GFWL's death only to give a free ROME: Total War?

An other thing worth to mention about DoW2 is that I heard a lot of gamers being interested in it since it's release but just didn't buy it because of GFWL. I think that when SEGA patches GFWL out of DoW2 those games might pick it up after all and SEGA will get a huge increase of sales for it (and surely will make a break-even on the costs for removing GFWL)

How low can you get? Obviously a couple of companies really have no problem with selling games that they know their customers can only play for 6 months tops. Not to mention, a lot of these games DO need to be activated through GFWL in the first place, and guess what? That's already no longer possible for about half a year already. Basically, you're buying NOTHING if you decided to get one of those games right now...

Post A Comment!