Razer Hydra for Elite: Dangerous

25 January 2016
I'm not sure if I should post this in the Twitch Streaming section,in the General section or MMMORPG section. It's a bit of all, but I'm planning to use it for playing Elite: Dangerous, which I'm considering to start streaming. I know it's been a while that I streamed games, but I didn't really have anything to stream...
Anyhow... I've found myself a nice new controller only last week: the Razer Hydra MotionSense PC Gaming controller. This thing is something totally different from the regular (XBOX) controller and is the first step into VR gaming. I have read reports of players using these along with the developer editions of the Oculus Rift and they say that the experience is mind blowing. Though I won't get myself a VR headset, these controllers are a different thing...
The main reason I bought them was for Portal 2, which gives extra levels when owning these controllers AND for (I hoped) better control when playing Elite: Dangerous. Aside from those 2 games, every other game I can play with these controlllers effectively (Mass Effect is not one of them for sure
) is only a plus...
The only problem though is that for Elite: Dangerous there's no profile, and for Portal 2 the DLC is locked. Luckily, for Portal 2 I managed to contact Sixense and they gave me a DLC key for portal without problems. Elite: Dangerous is an other problem though according to users on the Sixense forums - the game uses analog joystick input and that'll make it hard (impossible actually) to bind to the Razer Hydra.
Stuborn as I am, I decided to download the Sixense MotionCreator 2* to give it a try on making my own Elite: Dangerous profile. Below you'll see my 1st try on the profile and I've already given it a test-run in the tutorial of the game to fly from one station to the next.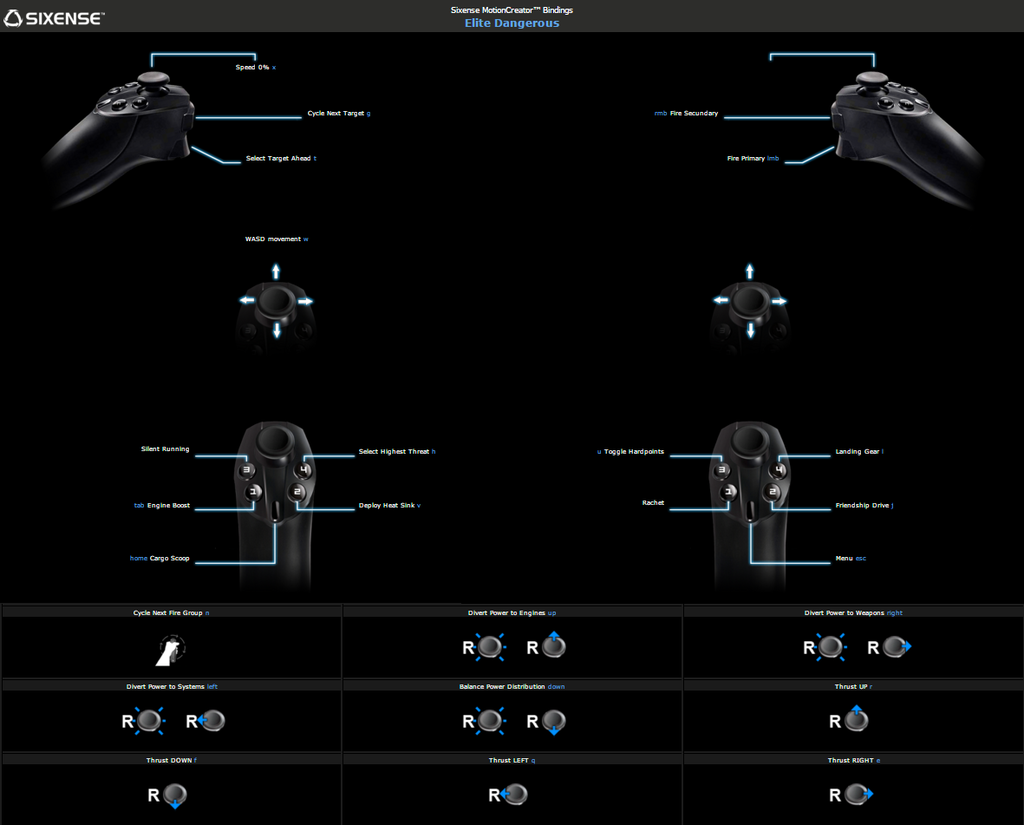 And while I managed to fly from one station to the next I did experience some odd things than needed attention. For one, the friendship drive button was placed at the wrong side of the controller - when I tried to press is I also made a motion with the controller, almost loosing my 'lock' on the destination, and I have moved it to button 3 on the controller.
An other problem is that the movement with the right controller is pretty subtle. When flying and pressing buttons on the controller, I made a lot of unwanted movements, making it look like a drunk pilot is flying
But I tried to make the profile from the default keyboard/mouse settings, and I realized that the mouse deadzone had to be made a bit bigger than it's default, and indeed it has to. By now I've set the deadzone to half (was 30%) and I hope that this is good enough not to make my fly as drunk as I did
In the mean time I've made a whole new (and bigger) configuration for Elite: Dangerous, which includes almost EVERY function in it's default mouse/keyboard configuration. This includes an option for the headlook (mouse 3 by default, now a double-click on the rachet button) so you can look on the displays in your cockpit.
Of course, I won't be playing with the Razer Hydra only. In the past I've also bought VoiceAttack so I can talk to the computer and it does most functions for me, but I want to make a profile that I makes it possible to play Elite: Dangerous with only the Razer Hydra controller. Of course, when I've tested the new profile and I think it's okay, I will post it here and on the Sixense forums for everyone to download...
*) The Razer drivers only support 125 games, while the Sixense drivers support over 350 games. And unlike the Razer software, the Sixense software allows you to make custom profiles as well...
Post A Comment!