Warhammer 40K Dawn of War II exits GFWL

25 May 2014
I've been posting about the end of Games for Windows Live since early September last year and been raging about sales for games that still use it. Though there are a lot of sites following this, I was pretty concerned about those few games that I have that utilize GFWL. One of the games I was really concerned about is Warhammer 40K Dawn of War II. I like this game a lot, but haven't played it because of the exit for GFWL and no word from SEGA about any support for this old title.

This weekend, Steam once again has the Warhammer 40K franchise on sale, and I was thinking about raging about it once again. I mean, really make it a sale on the last week this game is actually playable..? But when I went to the store page I was quite surprised...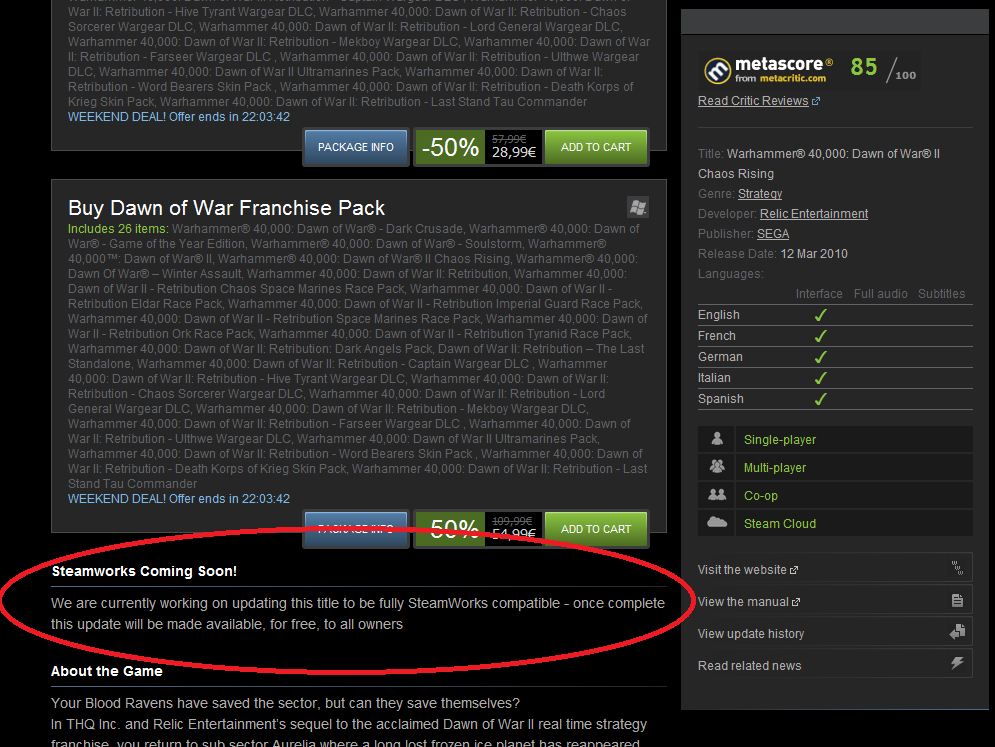 Yes, you see it well, SEGA has finally taken action to keep this AWESOME game alive. Not only that, I think they have figured out that sales in the past have been low for the DoW2 games only because of that sucky GFWL. I have heard from a lot of players that they skipped these two tittles (DoW2 and DoW2:CR) because of GFWL and were waiting for an other DRM system (Steam preferably since it's a Steam-only title anyway). Well, it looks like their wish has come true, and that DoW2 will have a new life again...

And with DoW2 about to have GFWL removed, only Fable III and GTA:IV remain to have it removed in my library. Sadly though, Mickey$oft is not gonna remote GFWL from Fable III (YOU FUCKING BASTARDS!) and on GTA:IV there's still no word from R* either on what they'll do with the game, and time is running short already...

Post A Comment!